Last year the ZTE presented the world's first under-display camera technology by launching a publicly accessible model called ZTE Axon 20, which is the only under-display front-facing camera phone in the world to date.
During this year's launch of the Axon 30 series, ZTE already announced that it will be launching a new generation of under-display front cameras on this year's FlagShip.
After official confirmation of design, this morning, ZTE's official website claims that the new generation of under-display camera phones, Axon30 will have achieved 400PPI high pixel density. "The new Visionox display with a high resolution of 400ppi + 120Hz will not be used exclusively for the new phone this month, and will be used later," said the source of this information Digital Chat Station.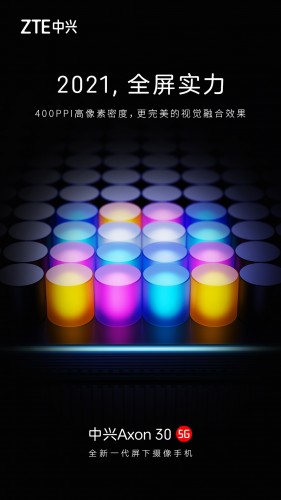 ZTE Terminal Division President Ni Fei said, "Two generations ahead of the rest of the industry and we are upgrading to 400PPI to provide the user with a natural full-screen experience. "
"ZTE Axon30″, the world's first second-generation under-display camera technology. This marks the next decade of a new dashboard and a new way of feeling about smartphones, we've made science fiction a reality", said the ZTE executive.
The second generation of under-display camera technology displays are much more mature than the previous generation. In the first version of this technology, in the state of the screen turned on, the presence of the front camera was noticeable, ZTE claims that this challenge has been overcome.
According to previous information, the new phone 5G from ZTE, model number ZTE A2322 probably the Axon 30, has obtained the compulsory certificate from China and is equipped with a 55W fast charging charger.