IPhone 12 became number 1 in sales in October 2020 in the 5G smartphone market. Anyway, that's what the data from the analytics company Counterpoint Research reveal. An honorable performance, especially since it was achieved in just two weeks after the official launch of the device.
Source: Apple
A small window of fire was therefore enough for Apple to take first place in the 5G compatible smartphone market, with 16% market share on the counter. The second place is occupied by another device of this new generation of iPhone, namely iPhone 12 Pro with 8% market share. Galaxy Note Ultra 5G of Samsung is relegated to the third step of the podium, with 4% market share.
Until the launch of the iPhone 12, it was the Seoul company that reigned supreme in the 5G smartphone market. Indeed, The Galaxy S20+ remained the best-selling 5G smartphone during the first half of 2020, according to data from Strategy Analytics.
However, many specialized companies have announced that this reign would end with the arrival of the iPhone 12, and they got it right. At the same time, Counterpoint specifies that the excellent sales of the iPhone 12 have allowed it to enter the The 10 best-selling 5G smartphones in 2020. The latest addition to the Cupertino company currently ranks seventh.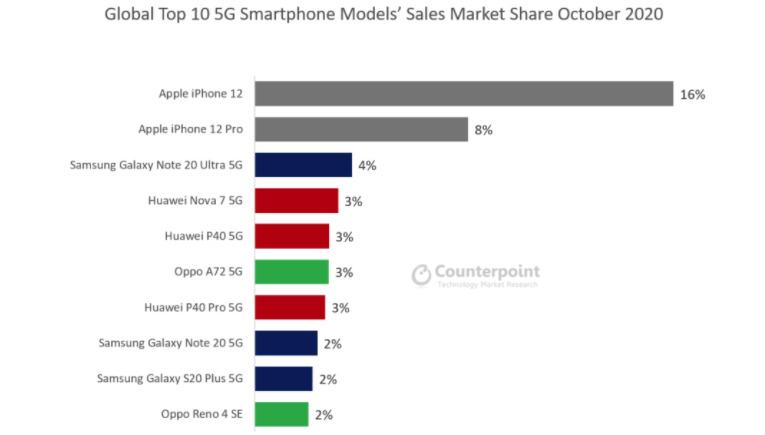 For the analytics company, these good numbers can be explained by a strong desire on the part of consumers (mainly Americans) to equip themselves with 5G smartphones, all of this added to aggressive promotions from North American operators. Demand was also extremely strong in China and Japan, while the wide availability of the iPhone 12 in more than 140 countries played a significant role in this excellent start.
Source: Apple Insider