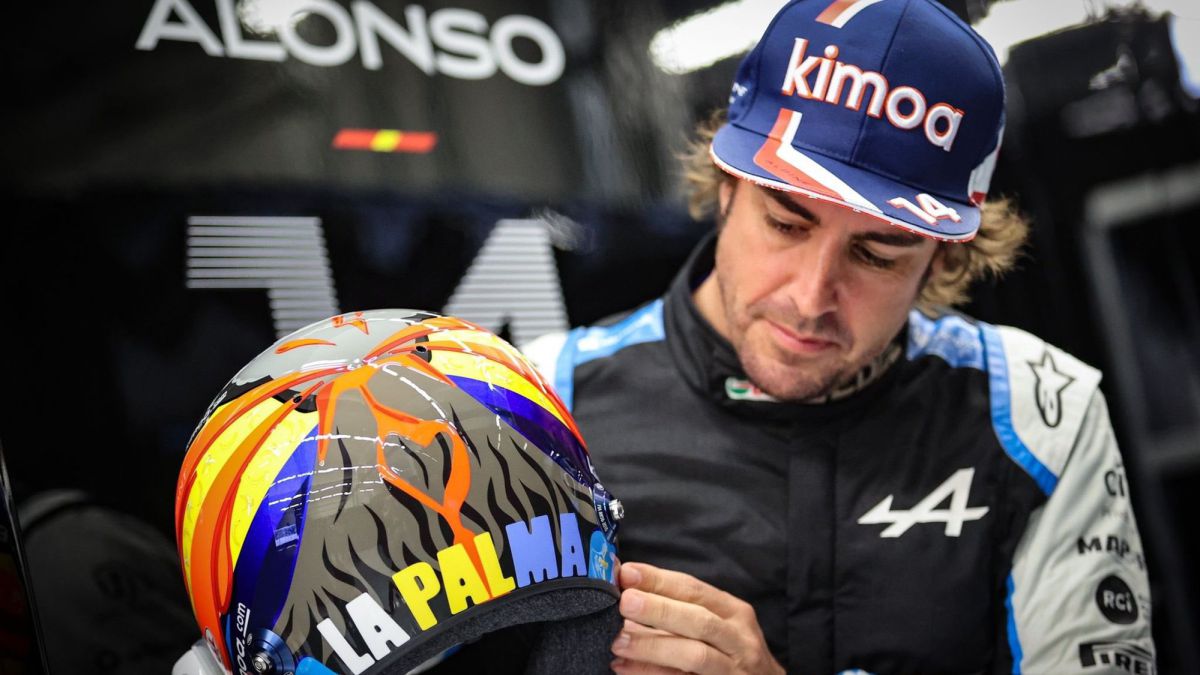 For some time now, each overtaking, departure, maneuver, good result or comment of Fernando Alonso in the circuits it is celebrated on social networks with an enigmatic message, repeated by hundreds of fans: "The plan". A plan in capital letters. At first it was anecdotal, residual, but in recent weeks these comments have multiplied and have even reached the grand prix grandstands in the form of Spanish flags with the slogan 'El Plan'. The Asturian receives questions about something that "still cannot be told" and the international press consults Spanish journalists about the meaning of 'El Plan'. What is it?
The first mention of the now famous plan appeared in the video with which Alonso announced his continuity at Alpine next year. The two-time Spanish champion got into a French street car to draw on the ground, burning a wheel, a huge 2022. "Plan 2022" closed. It is understood that 'The Plan' is to have a good car next season, a better one, that allows you fight for podiums and victories occasionally, although it is not at the same level as Mercedes or Red Bull. An ambitious plan, but not impossible.
It is no secret that Fernando returned to F1 after his absence in 2019 and 2020 because next year's rule change offers new opportunities to drivers and there is uncertainty, it may alter the established order. For months, in the factories of Enstone and Viry are working on the project that will succeed the A521 under the new specifications and with a completely redesigned engine. That doesn't mean that Alonso and Alpine are going to win races in 2022, but at least, for today, it can't be ruled out. The French already won the Hungarian GP in August with Ocon, albeit thanks to a carom in the first corner that eliminated two Red Bulls, a Mercedes, a Ferrari and two McLarens plus a strategic error in Hamilton's car. Under normal conditions, it would have been simply impossible.
"The new rules are a platform to improve the competition"
On a grid with marked differences between each group of cars, the new regulations promise to limit the impact of aerodynamics in the cars and facilitate the fights on the track. Even in a great season like 2021, there are only two manufacturers alternating at the top. Ross Brawn, F1 sporting director, underlines: "I hear comments about whether the 2022 change was necessary now that we are enjoying a great campaign, but the cars are still struggling to follow one another closely and that limits the opportunities for overtaking. new rules won't change the situation overnight, but they are a platform to improve competition, with more wheel-to-wheel fights. "
Although, not everything is 2022. The illusion shown by thousands of fans on social channels with 'El Plan' is a direct consequence of Alonso's good year on his return to the Gran Circo: points in eleven races out of 16 with a car that is for few boasts, great performances in Baku, Silverstone or Hungary, a defense over Hamilton that will remain in the history books and his best individual results since 2014, Ferrari's final year. 'El Plan' is also the expectation and reactivation of a sector of the Spanish fans that had stopped paying attention to F1 and is gradually re-engaging. Audiences on pay TV are doubled (from 183,000 viewers at Silverstone 2020 to 400,000 this year on the same circuit). It will take a few months to learn about Alpine's aspirations. For now, Alonso only has one message: "You have to believe in 'The Plan."