With no minutes in Jagoba's scheme, the Valencian striker will seek to leave the Navarrese club in January
Far right Robert Ibáñez, he does not have a good time in the Osasuna, and his desire has become to go out for this winter market. The shortage of minutes in the staff Jagoba Arrasate, has made the player consider whether it is worth continuing until the end of this season. Fortunately for the Valencian forward, he has 3 offers that could give him back his rhythm.
The pamplonese set He supports the idea of ​​giving way to the extreme, since it is a piece that the coaching staff does not use much. In fact, the footballer has only played 90 minutes spread over 4 games, in almost 14 games to date. The ostracism is evident and the situation becomes untenable for the former Getafe CF.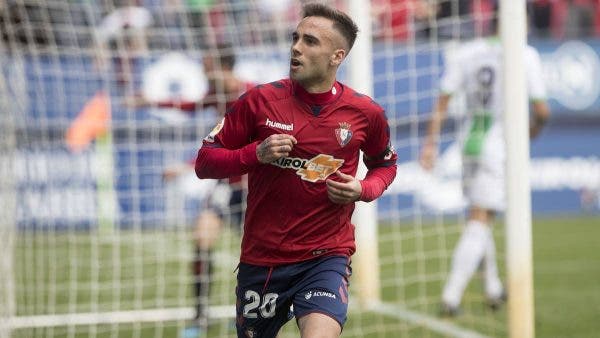 LaLiga Smartbank knocks on Robert Ibáñez's door to get him out of Osasuna
In total, there are 3 offers that are part of the plan of salvation for the shameless ostracism suffered by Robert Ibáñez at Osasuna. One of them comes from Real Valladolid, where they are already looking to replace Ecuadorian Gonzalo Plata, who will return to his team Sporting. Valencian is to Pacheta's taste, and they would have already ordered it for this winter market.
The second offer comes from Leganés, who despite having 4 troops in the demarcation of the right-handed winger, 3 of them finish a contract in the summer of 2022, and at least 2 will leave for this winter market. And finally Sporting de Gijón, who have a fairly small squad, and at the moment they don't have a right-handed winger.
Valladolid leads the intentions to remove Robert Ibáñez from Osasuna
The pucela team is the one who is closest to the approval of the player and Osasuna himself. The sports management of Valladolid has requested the transfer of the attacker, with an extension option and a purchase option at the end of the 2023 season. The directives of the Navarrese team are studying the proposal, and everything seems to indicate that they will reach an agreement very soon.
On the part of the right-handed winger, he assured that playing for Valladolid is one of his short-term objectives, and he is already very close to fulfilling it. The same player discarded the idea of ​​returning to the cucumber box, since he wants to change of scene, and that implies falling back on the same thing. He also did not do very well there, since he only scored 3 goals in 25 games.