Some call it the "crypto of banks". It must be said that Ripple's partnerships concluded with entities such as Santander, the largest European bank or with Bank of America help to explain this nickname.
In recent days, it seems that Goldman Sachs, a strong value in the banking world, has wanted to start a collaboration with Ripple. Could this have an impact on XRP? If so, to what extent? We will try to answer these questions.
Goldman Sachs wants to patent a new payment solution
On July 1, the American bank filed a patent. A patent in which it was a question of highlighting how the blockchain technology could be used for transactions. This patent deals, among other things, with payment flows between customers using different currencies. It was from this patent that the most insistent rumors of a merger between Goldman Sachs and Ripple were born. Indeed, the mechanisms presented are reminiscent of ODL, developed by Ripple Net.
A point fully assumed by the American bank. Ripple also appears several times in the document provided for validation of the patent. A merger that could also be facilitated by the arrival of the former CEO of Goldman Sachs at Ripple last year. Aditya Turakhias, formerly at Goldman, could therefore be a facilitator of relations between the new structure he heads, Ripple, and the American bank.
XRP Consolidates Sixth Place In Cryptos
While Solana had seized the sixth place of the most important crypto projects, XRP has reclaimed this place in recent days. Yesterday's results even allow the XRP project to consolidate its lead. A lead that the Solana project has mostly lost this week. As evidenced by the correction of more than 20% of its price over the last 7 days.
Now with $ 51 billion in capitalization, Ripple is ahead of Solana by nearly 10% ($ 46 billion). The following chart shows the price of the XRP crypto over the last month. A graph that is still marked by the sudden drop on September 7 after more than a week of increase.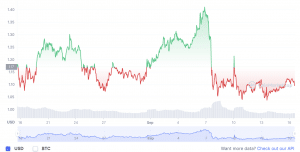 What to expect from a partnership between Ripple and Goldman Sachs?
For now, rumors of a partnership between Ripple and Goldman Sachs do not seem to have shaken the markets. If on the day of yesterday Ripple saw its price climb by nearly 2%, it remains difficult to grant all of this increase to this announcement. On the side of the American bank, the action climbed on the day yesterday before correcting on the day's session.
In the longer term, a partnership with the two entities could have beneficial effects for both groups. Anyway, to see the price of Ripple start to rise again, it is above all expected a positive outcome in the legal fight against the SEC. Such an announcement could then have the effect of a real explosion in the price of XRP crypto.