While the smartphone sector is experiencing a dramatic drop in sales, Xiaomi continues its rise in the European market, going from 8% to 17% market share in just one year. On the other hand, Huawei continues its descent into hell.
As you know, the health crisis has severely affected many sectors. The smartphone market is no exception. Despite this difficult situation, some manufacturers are managing to do well, and this is particularly the case for Xiaomi.
Already in 2020, the Chinese brand had exceptional health, despite the difficulties caused by the pandemic. In fact, Xiaomi came out ahead of Apple, thus becoming number 3 in the smartphone market.
However, this Saturday, February 27, 2021, a new study by the analysis company Couterpoint Research confirms Xiaomi's excellent health in the European market this time. Thus, Xiaomi still occupies the third position, behind only Samsung and Apple. Needless to say, the brand literally saw its sales explode during the fourth quarter of 2020 (compared to the same period in 2019).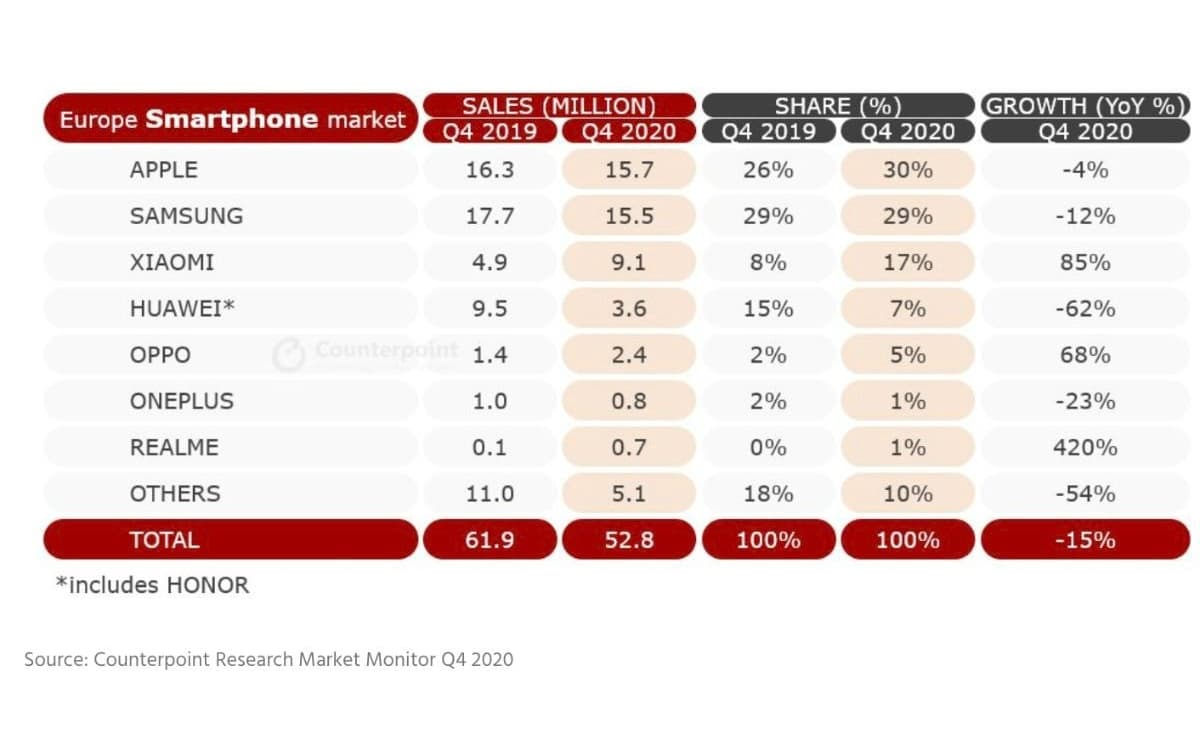 In fact, the builder went from 8% market share in the fourth quarter of 2019 to 17% in the fourth quarter of 2020. Sales increased from 4.9 million devices sold at the end of 2019 to more than 9.1 million at the end of last year. Thanks to this performance, the Chinese company registers record growth of 85%. A feat in relation to the numbers of competitors, which almost all show negative growth: -4% for Samsung, -12% for Apple or -62% for Huawei.
Xiaomi is taking advantage of Huawei's loss of speed in the European market to impose itself. And for good reason, the Shenzhen company has clearly declined in this market, from 15% market share at the end of 2019 by just 7% in the fourth quarter of 2020. It should be noted that Counterpoint Research data includes Honor sales in Huawei numbers. However, the manufacturer will no longer be able to rely on Honor to boost (a little) its performance, the brand now owned by a consortium of forty Chinese companies.