It was in mid-June that OnePlus and Oppo confirmed a merger between the two companies. This decision places OnePlus under the jurisdiction of the latter, which now has decision-making power over the strategies and decisions of the former.
The consequences of this merger are not yet entirely clear, but more details are gradually being reported. This time, we learn that OnePlus will integrate one of Oppo's high-end lines.
The news was shared on the Weibo social network by the leaker Arsenal. According to him, OnePlus will be Oppo's top-of-the-range lineup, taking the place of the Find X models.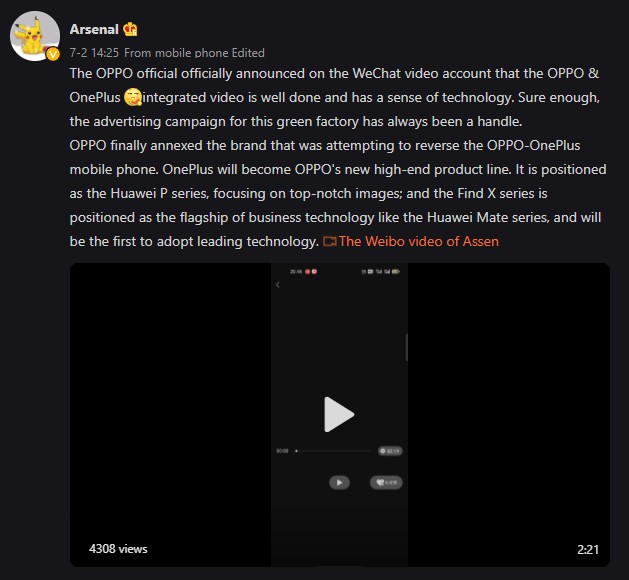 Now, everything indicates that smartphones with the OnePlus seal will be the mass equipment that Oppo will market. They will pay close attention to the quality of their cameras, playing a similar role to the P-line in Huawei's portfolio.
If so, that's great news for OnePlus fans. Those who have always wanted a better quality in the cameras of the brand's smartphones, it seems that this will happen under the responsibility of Oppo.
Oppo's Find X line fans rest because it won't disappear from the Chinese brand's portfolio. Its role will be different in the future, being the showcase of new technologies to be used in Chinese smartphones.
It will be from this range of products that we will expect the first model with a camera integrated into the screen or any other innovation that may emerge in the meantime. In other words, it will follow the role of the Mate range in Huawei's portfolio.
These technologies will eventually make their way to mass-oriented models, in this case to OnePlus equipment. Something that will give this brand's influence in the market a significant boost.
It is important to point out that this information is not official. Although its source is credible, we have to wait for an official announcement from Oppo regarding the future of its top-of-the-line and those of OnePlus.