The Argentine coach is the most optimal to take the franjiverde bench
After the dismissal of Fran Scribe, the Elche CF opened the vacancy for the new coach, and Hernan Crespo is positioned as the favorite. Although the club from Elche is still not defined by one, it is the Argentine who takes the lead, and the favorite by none other than Joaquín Buitrago (president of the club) and Christian bragarnik (owner).
The former footballer and one of the scorers in the Argentina national team, He has had a great journey as a coach, since he decided to retire from professionalism in 2010. Since then he has gone through 5 benches, being that of Sao Paulo the last one he was through. Right now he feels anxious to get to Spanish football, hand in hand with ilicitano set.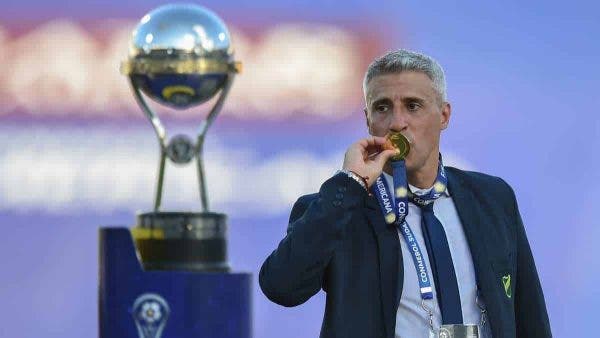 The tactical system that Hernán Crespo would use in Elche CF
The strategies and techniques used by the Argentine coach are not very different from those already known by Fran Escribá. Like the Valencian, he is a coach who does not stay with a single formation, but tries two or three in different games. However, one of his most common is to play with 3 defenders, either in a 3-5-2 or 3-4-3.
In fact, in his last years in Sao Paulo and Defense and Justice, this was the system he used the most. In addition to the line-ups, the gaucho coach always wants his teams to be effective on offense and when they don't have the ball, to be constant in attack. Likewise, possession of the ball is essential to exercise 90% of the idea of ​​the game that your coach wants to implement.
The vision of Hernán Crespo would be one of the characteristics that most attracts attention in Elche
One of the most important technical qualities in Crespo is his ability to read the matches, as he, like many renowned coaches, agree that all matches are different, but with some basic similarities. For example, when facing teams retracted to the defense, their lanes are the key to opening up the opposing defense.
In the case of opponents with high offensive power, their tactic is to hold out with a high volume of defenders and midfielders. After that, counterattack with a nourished block to find more precise plays and arrive with high chances to score. Hernán Crespo is a fairly intelligent and experienced coach, despite the fact that he has not coached in a first division in Europe.