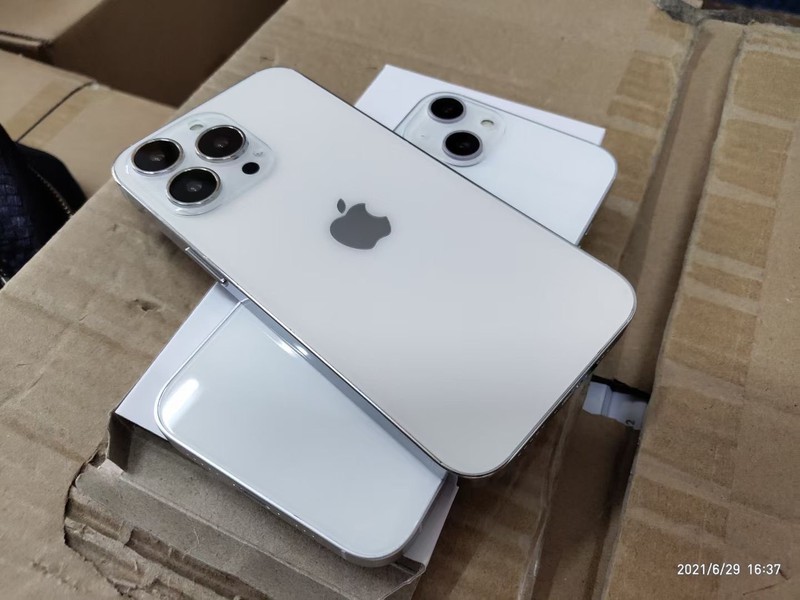 If you follow the latest news from the Apple brand, you know that not a week goes by without a new leak about the iPhone 13, Apple's next flagship. For example, we recently learned about all the prices of the iPhone 13 series, While photos of an iPhone 13 Mini prototype allowed us to confirm the new dual photo sensor design.
And precisely, the bleeding has continued in the Cupertino company since new iPhone 13 mockup photos have just been published on the Chinese social network Weibo. As confirmed by previous leaks, we note the presence of a much more discreet notch on the front panel, while the speaker is now placed on top of the device.
As the leak's author, DuanRui, specifies, these models come from the company that had already supplied iPhone 12 models in 2020. In other words, these models were made according to the CAD drawings disclosed by someone in Apple's supply chain. As a reminder, CAD drawings are detailed 2D or 3D illustrations that show the components of an architectural or engineering project.
Also, as you can see, these mockups confirm the new array of photosensors adopted by Apple. The objectives are therefore placed diagonally. This arrangement would allow Apple, in particular, to improve augmented reality results by providing both horizontal and vertical parallax. Of course, this information should be taken with a grain of salt, until the official presentation of the iPhone 13, which everyone agrees will take place on September 14, 2021.
As a reminder, these multiple leaks on the iPhone 13 are quite annoying to Apple, which decided to file a complaint against the leakers. Several leakers have already received warning letters from Apple's legal department, asking them not to release any more "Unmarketed Product Information."