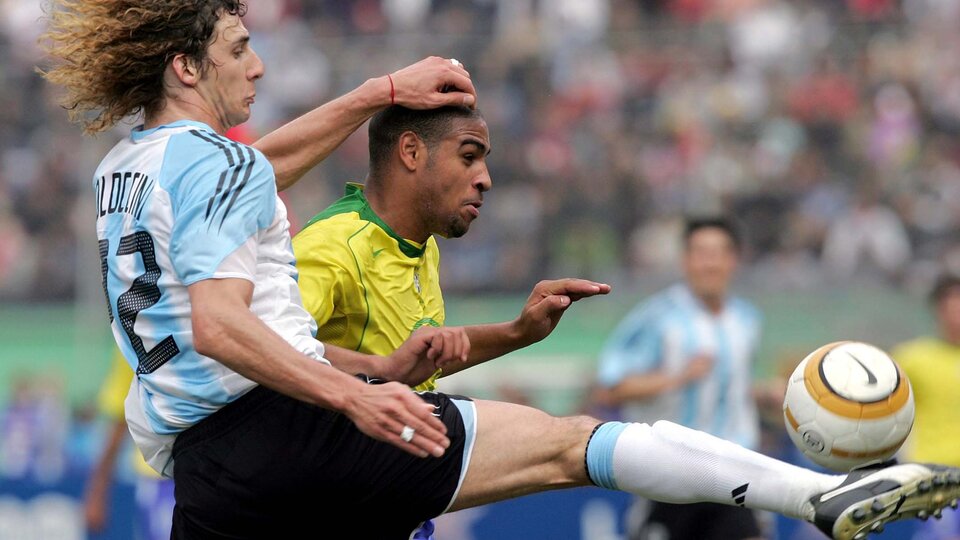 The defender Fabricio Coloccini, who knew how to be U-20 world champion and Olympic gold with the Argentine National Team, announced his retirement of professional activity at 39 years of age through a heartfelt letter that he shared on his social networks.
"Dear friends, colleagues, followers, the day to wake up has arrived, I was immersed in a dream for 22 years of my life that has given me much more than I imagined. It was all so wonderful that even the bad moments, hard in those times, were transformed into experience. This same one nourishes you, teaches you and the more you incorporate, it means that the biological clock without realizing it, advances, carrying the baggage of what has been traveled each year. I want to tell you that I fulfilled all my dreams as a soccer player, know that I was happy during this trip which I would have liked never to end. But unfortunately it has an expiration date. Like all things, "said Colocha, who made inferiors in Argentinos Juniors.
With unmistakable curly and blonde hair, Coloccini rose to fame in national football with the San Lorenzo jersey, where he was champion of the 2001 Clausura. However, his debut in the First Division was with Boca, which he acquired along with other youth from Argentinos Juniors. In Xeneize he played a game, scored a goal, and quickly moved to Milan, Italy, with the pass in his possession due to the efforts of his father, Osvaldo, former player of San Lorenzo, Vélez and Racing de Córdoba, among others.
"That happiness fulfilled – the letter continues – would not have been possible without my colleagues, staff, coaching staff, each of the workers of the clubs with whom I had to share throughout my career, therefore, highlighting them as a fundamental part out of my way. Thanks to the ten clubs where I played for giving me the opportunity to wear their prestigious shirts trying to leave the maximum at all times, both on and off the field, with successes, with errors but always with honesty, loyalty and commitment both for the institution and for my colleagues ".
In 2001 he was an important part of the U20 World Cup champion team held in Argentina, directed by José Pékerman and figures such as Maxi Rodríguez, Javier Saviola and Andrés D'Alessandro. Some years later it was also holder in the conquest of the Olympic gold in Athens 2004, with Marcelo Bielsa as DT and Carlos Tevez as figure.
"Thank you very much Selection for hosting me from the Sub 15 to older giving me the satisfaction and the most beautiful feeling of being able to defend the flag of my country for the world. I do not want to extend myself too much, again thanks to my colleagues, friends, family, followers for the unconditional support. To rest, recharge and prepare 100% for the new goals, challenges and illusions, responsible for my future dreams ", concluded Coloccini.
In the National Team he totaled 38 games and scored a goal (In the Qualifiers for Germany 2006, in a 3 to 1 as a visitor over Peru, with goals from Mauro Rosales and Juan Pablo Sorín). That World Cup, with Pékerman on the bench, would be the only one he played: as a right-back, he played in the third game of the group stage against the Netherlands (0-0), while he started and completed 120 minutes (regular time and extra) against Germany in the elimination of the quarterfinals (1 to 1 and 3 to 5 on penalties).
In addition, he played the America's Cup of Peru 2004 as one of the three central defenders that Bielsa's team played with (the others, Roberto Ayala and Gabriel Heinze). They did not play for a minute in the group stage, but started in the quarterfinals (1-0 over Peru), semis (3-0 against Colombia) and the final (2-2 and 2-4 on penalties with Brazil).
In terms of clubs, he was linked to Milan for a long time, who sent him on loan to San Lorenzo (2001), Deportivo Alavés (2001-2002), Atlético de Madrid (2002-2003) and Villarreal (2003-2004). In 2005, it was bought by the Deportivo La Coruña, where he remained until 2008 when he was booked by Newcastle. In England he made most of his career (275 games, 7 goals) and in 2016 he returned to San Lorenzo. In the middle of this year, it reached Aldosivi, his latest t-shirt.
.